Download Tinderbox now!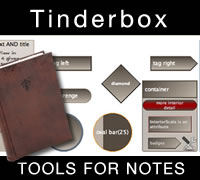 Making Better Notes
Latest Changes
Principles

  Subscribe : get updates in your news reader
Keep in touch!
Keep in touch with new ideas and new tools! Moderated email announcements, concise, and timely. We never share your email address.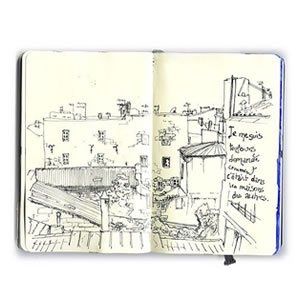 With what shall we take notes?
Ideally, we want to write things down directly in our trusted system, which will usually be stored in a computer. But because the computer isn't always available, we need a second place to write. And that means we should always have a pen.
A surprising number of very technical people have recently re-embraced the fountain pen for everyday writing. They're drawn to fountain pens not from nostalgia or from a desire for expensive jewelry, but because they enjoy the way the pen feels in their hand -- or the way their writing looks on the page.
When I asked about fountain pens on my weblog, I received a remarkable outpouring of passionate mail. Here, lightly edited, are some selections.
Ryan Holcomb
I just started using a fountain recently. The reason I like it?
Engagement.
To write properly with a fountain pen takes mindfulness. You must be completely connected with the process of writing as you transfer thought to paper.
And the results reflect that mindfulness. Your state of being is captured on paper through the varying line width and serifs that a fountain pen leaves. There is also a visceral connection with the paper as each pen each has its characteristic friction , unlike the generic press and roll of a ball-point or the soft quiet slide of a felt tip.
Using a fountain pen isn't the fastest writing tool but I have found it to be one of the more engaging writing tools. Like Tinderbox, fountain pens engage you in the process enriching in their feedback.
Will Emerson
To any list of fountain pen lovers, you must add Natalie Goldberg who wrote Writing Down the Bones in 1986 and advised using fountain pens for the fact that they have low friction/ great flow and help "to keep the hand moving." I believe she did a lot to encourage people in America to write--as a spiritual practice, as self-expression, as an antidote to television, as anything as long as you 'Keep the hand moving." As such, I think she paved the way for the idea of the blog and the value of citizen writers.
Alwin Hawkins
Do try the Waterman Phileas pens. They are easy to find for less than $30, a lot of the chain office stores carry them, they come with a converter to let you use bottled ink, and have a good "feel" and ink delivery for such an inexpensive pen.
The Rotring 600 that I have is a quality pen. As a writing instrument it took a little "breaking in" to get used to my writing style, but then laid down a line with good ink flow as long as I "brushed" the ink on - note that it takes a while to adjust your writing style in transitioning from ball point to fountain pen.
The Lamy Safari has a lot of fans - it's a decent student's pen, and half the price of the Waterman. I prefer the Waterman, but I'd find a pen shop to try stroking some ink onto a page to see which one you like.
Charles Starrett
Another recommendation: Namiki Vanishing Point. The "retracting nib" looks like a gimmick, but I find it makes the pen much more practical -- easier to grab and use. It sounds like a small thing, but it's the only fountain pen I use now, because I don't have to fiddle with the cap.
I have the original Vanishing Point, which is more svelte than the currently-sold VP-II. I have also heard good things about the Falcon -- it has a more flexible nib than the VP. [Alwin Hawkins also mentioned the Falcon] One thing to be aware of: Japanese nibs run small. A Japanese "M" is equivalent to a non-Japanese "F", etc.
I find that with fountain pens, the pen, ink, and paper all have a much greater effect over each other. Also, some inks survive being left in the pens better than others. "Noodler's Ink" seems to be much in vogue these days because of it's magical quality of becoming waterproof once it hits paper. Unfortunately I have found that if I let it sit in my Vanishing Point for too long (a week?) without use, it doesn't like to get going again. My other favorite ink -- Pelikan -- doesn't seem to suffer from this lethargy.)
Another cool think about the Vanishing Point is that you can get replaceable nibs (also true with most Pelikan pens). I've found that I like the VP "F" nib with Pelikan ink, but again the Noodler's ink doesn't flow as well through it so I have to go with an "M" nib for that ink. (For reference, I also prefer Extra Fine (.5 mm) gel pens to less fine ones.)
Jolyon Patten
I have been very happy with a fairly bog-standard Cross model (don't know which) for about 10 years now. Elegant to write with and, I know you're not interested in this but..., understated (i.e. not a Montblanc).
I don't know what you're handwriting is like, but in case it could do with a polish, I found this resource rather helpful.
Ken Hagler
Besides the sources you've already received, I should mention that it's also possible to buy good used fountain pens (from the days when all pens were fountain pens) for reasonable amounts of money. I bought a used Parker 51, a very practical un-jewelry like pen from this guy for about $100.
Pen resources