Download Tinderbox now!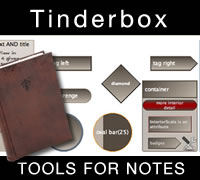 Making Better Notes
Latest Changes
Principles

  Subscribe : get updates in your news reader
Keep in touch!
Keep in touch with new ideas and new tools! Moderated email announcements, concise, and timely. We never share your email address.

Reserve some space at the start and end of your notebooks for apparatus -- for a variety of aids to help you use the journal more effectively. You may also wish to reserve a portion of some pages -- or even a part of every page -- for other kinds of apparatus.
Inside the front cover: place your contact information. You might misplace your notebook; give a lost notebook a chance to find its way back to you. Many people mention some sort of reward or incentive for the finder.
In front of the book you may wish to reserve the title page to describe the purpose and contents of these notes. Someday, you may have dozens or hundreds of notebooks; finding a particular notebook from ten or twenty years back can be less arduous if each notebook begins with some indication of date and purpose.
You might also want to reserve a few pages for an index or table of contents that you'll add later. (Updating your table of contents is a good way to improve the moment while you're waiting for buses, trains, airplanes, or donkey carts.) If you have a table of contents, you'll also want to add page numbers.
The table of contents need not be overly detailed or formal and it doesn't have to be complete: the purpose is simply to help you find things later.
page 1. Rush to the airport, followed by many delays
p. 3. Rome! And so to bed....
p. 4. But there was one thing we'd forgotten...
p. 6. Many museums, and also some galleries. Fettucine carbonara and carciofo all giudia.
p. 7. Earache. Search for a physician, or a pistol.
p. 9. Meeting Tomas.
In the back of the book, reserve a few pages as well. One of these pages can contain a list of housekeeping tasks. For example, you might have had time only to write the most cursory notes on a topic you want to revisit. Or you might have written several pages on the tram outside Vienna and need to transcribe the indecipherable scribbles while you remember what you were saying. You might want to polish some illustrations you sketched on site, or paste some ephemera -- tickets, ads, clippings -- you had tucked away in the book.
On each page, you may want to reserve space for page numbers and other orientation aids. You may want to add a date at the top or bottom of each page. If this is a lab notebook or you're concerned with patents, you may need to leave space for witness signatures.
Even if you don't often draw, you might want to block out some space for sketches and visual notes. Even a crude, casual sketch may help remind you of something crucial at a later date, capturing some nuance of mood that can help trigger an important recollection. Your children and your biographer will thank you, too.