Download Tinderbox now!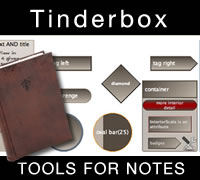 Making Better Notes
Latest Changes
Principles

  Subscribe : get updates in your news reader
Keep in touch!
Keep in touch with new ideas and new tools! Moderated email announcements, concise, and timely. We never share your email address.

Tinderbox prototypes are a powerful tool for capturing and organizing knowledge. Prototypes often represent what kind of information a note contains -- whether a note represents a book from the library you might need to cite, a task you need to do, or a business contact who might become a customer.
Whether it's a new router for use with the services found at http://www.o2.co.uk/broadband/ or a circuit design, sharing prototypes can encourage feedback and group discussion of an idea. This is especially useful for teachers who want to give examples of a certain design idea.
Often, you'll create some notes and discover later that they should share the same prototype. Still later, you might find that some of these notes should share a more specific prototype: a note might first become a Reference and later a JournalReference or an AssignedReading to be distributed to your students. The process of discovering and refining prototypes is part of incremental formalization.
If it's hard to assign or change prototypes, people tend to avoid prototype information entirely. What if something is miscategorized? It's easy for fear of premature commitment to overwhelm other considerations, leading people to call everything "a note" and leave it at that.
Fortunately, it's very easy to change the prototype of a note; just Rename the note and choose the new prototype. (Changing the prototype might hide some key attributes but it won't erase information that's already part of the note, so changing the prototype isn't a hazardous task.)
If you need to change the prototype of a lot of notes, consider using a power tool.
You can make a stamp that sets the prototype of the selected note; this is handy for prototypes you need frequently.
A quickstamp for setting the prototype gives you the power of a stamp without the overhead. It's ideal when you need to set a big batch of prototypes today, but don't expect to need the stamp tomorrow.
Having trouble locating the notes whose prototype you want to change? Remember that the Find window is a full-fledged view, and works with stamp and Quickstamp exactly like map and outline windows do.
If you find yourself using Find to set a prototype, you might consider creating an agent that permanently looks for notes that fit your search criteria and sets the Prototype automatically.
The most common and powerful way to automate prototypes is to use the context of a note to deduce what sort of note it is. For example:
If our document contains some Projects, each of which holds one or more Tasks, then the Project's OnAdd action can set the prototype. Whenever a note is added to a Project, it becomes a Task.
If our document has an Adornment labeled "Things To Finish Today Without Fail", we might set the adornment's action to assign the prototype UrgentTask.
We might also use a Tinderbox rule to set the prototype. For example, if a Task mentions "weblog" in the text, you might automatically change the prototype from Task to the more specific ComputerTask.