Download Tinderbox now!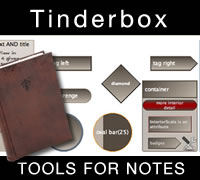 Making Better Notes
Latest Changes
Principles

  Subscribe : get updates in your news reader
Keep in touch!
Keep in touch with new ideas and new tools! Moderated email announcements, concise, and timely. We never share your email address.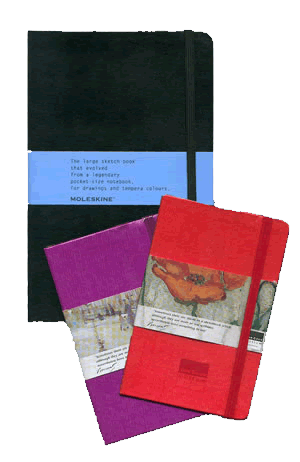 Moleskine notebooks are a high-quality, durable line of pocket notebooks produced by the Italian stationery form Modo a Modo. The classic Moleskine features a lacquered fabric cover that's rigid enough to protect the book from folding and moisture, yet flexible enough to be comfortable in the pocket. Moleskines include a family of thoughtful features:
An elastic strap holds the notebook closed in your purse or briefcase
A paper pocket in the back cover gives you a handy place for storing tickets, business cards, or travel ephemera
A sewn-in bookmark holds your place
Moleskine notebooks are available in ruled, plain, quadrille, and storyboard paper.
The classic Moleskine opens like a book, while the newer Reporter Moleskine is bound at the top, making it easier for writing while standing up. Silk-covered Moleskines look great, and can be especially helpful if you keep several notebooks -- a home notebook and a travel notebook -- simultaneously.
You can order a variety of Moleskine notebooks at outstanding prices from Eastgate.